K-Learning Group
K-Learning Group (a Kelly Company) is a leading provider of online training systems for unions and associations. Our Instructional Designers specialize in converting classroom instructor led training to an online format and creating new online content. Whether programs are designed for new members or veterans, our team will provide a comprehensive turn-key solution!
K-Learning Group announces the launch of K-LearningCenter.com, offering discounted training to union members.
Online Training Solutions
Strategic Training Plans
Custom eLearning Content
Learning Management System
Training Consulting Services
Training Needs Analysis
ADDIE Instructional Design
SCORM Compliant
How Online Training Can Impact Your Members
Saves Time
Improves Productivity
Reduces Overall Training Costs
Increases Consistency
Meets Regulatory or Compliance Training
Enhances Member Accessibility
K-Learning Group puts your learning process in motion by providing online training solutions to build and sustain productive work forces.
We can build new systems or expand on existing programs – always focused on providing quality services and products.
Already have an online training system? K-Learning Group is a great source of expertise in enhancing existing systems.
---
Aerial Work Platform Simulator – "It feels like the real thing!"
Experience the actual feeling of an elevated basket without leaving the ground. Navigate through real-world scenarios while gaining control, familiarization and understanding of AWP behavior. A completely immersive experience that ensures strong, learning outcome retention. Experience the AWP Simulator for yourself.
Aerial Work Platform Simulator
The AWP simulator bridges the gap between theory and competency for trainees. The trainee can experience virtual operation of an AWP to become familiar with the controls, best practices, and the machine's behaviors.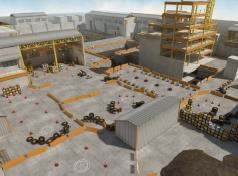 The AWP VR Simulator provides several benefits to your training program:
Trainees gain control familiarization and an understanding of an AWP's behavior before their first experience on the real equipment. This practice reduces anxiety for students who are not acclimatized to working at height and provides an operational foundation.
Operational metrics give instructors a sense of how trainees will operate the equipment, highlighting potential problem areas prior to hands-on evaluation.
New operators experience navigating real-world scenarios that show how to avoid the most common AWP incidents. The engaging nature of VR ensures that the learning outcomes of these scenarios are strongly retained.
Integration of this module completes the path from new trainee to operator while further reducing potential incidents and ensuring trainee competency.
Key Features:
Simulated motion allows the operator to experience the actual feeling of an elevated basket.
Replica control panel for accurate muscle memory development.
Virtual Reality immerses the learner in the environment and closes the gap between real-world operation and training.
Learning Objectives:
The learner has the ability to experience situations that would not be practical or safe to demonstrate in the real-world:
Navigating tight corners. Prevents equipment damage and personnel injury due to common basket collisions.
Understanding the directional arrows. AWP controls are relative to the chassis, not the basket – new operators often overlook directional arrows to orientate the controls, causing movement in undesired directions.
Complex basket positioning. The simulator includes scenarios otherwise impractical for safe hands-on training, including overhead hazards, powerlines, and steep inclines.
Avoiding hazardous placement. The simulator forces the trainee to position the AWP according to best practices, avoiding common shortcuts and reducing the risk of real-world tip-over incidents.
Additional Information:
Boomlifts result in 70% of Aerial-related construction deaths in the United States (U.S. Bureau of Labor Statistics data).
Causes of incidents resulting in death:
Half of the falls from boom lifts involved being ejected from the bucket after being struck by vehicles, cranes, or crane loads, or by falling objects, or when a lift suddenly jerked.
Two-thirds of the deaths from collapses/tip-overs of boom lifts occurred when the bucket cable or boom broke or the bucket fell; almost one-third were due to tip-overs.
Half of the boom lift electrocutions involved body contact with overhead power lines, mostly involving electricians or electrical power installers and repairers. Over one-third of the electrocutions involved an overhead power line contacting the lift boom or bucket.
In most of the caught in/between deaths, a worker was caught between the bucket edge and objects such as roof joists or beams while repositioning the bucket.
(Deaths From Aerial Lifts: CPWR – The Center for Construction Research and Training)
What are the three most common issues you see with a new AWP operator?
OC (Operator Candidate) not knowing what the controls do, not taking the time to learn them and their control markings. They do not understand the system has a built-in lag and will not respond immediately. This would include expecting it to start or stop as soon as they expect it to. OC's do not fully understand the connection of the deadman foot pedal and the controls
OC's are caught off guard while driving due to the cantilever effect of the boom. This can be while driving over a bump or turning too fast and being thrown off the deadman foot pedal.
Not understanding the importance of proper driving configuration. Either the platform is too high or too low. They do not understand the concept of ABL [Aerial Boom Lift] steering. They have a tendency to over correct their steering. It takes practice to drive a unit in a straight line.
(Response from James "RED" Ronduen – Corporate Master Safety Trainer United Rentals)
The AWP VR Simulator specifically addresses aerial hazards, by
Ensuring trainees complete scenarios through the application of best practices, which reduces the possibility of ejection or tip-over. Goals must be achieved by reaching over hazardous slopes, lowering the boom before driving to a new location, and navigating rough terrain correctly and from an appropriate angle.
Placing the trainee in a situation where they do not know their current orientation and must use the arrow guides on the equipment to ensure the controls will move them in the desired direction. This scenario replicates a hazardous situation that can happen after hours of work and distraction in the field.
Navigating an area where the trainee must be aware of real-world hazards, especially power lines and unsafe ground conditions.
Understanding complex navigation scenarios where the length of the AWP's boom can result in collisions, entrapment, or pinch hazards.
Hardware Features:
Oculus Rift Headset
Full immersion virtual reality headset
2160×1200 (1080×1200 per eye), 90 Hz display
100-degree field of view
360 degree, low latency, positional tracking
Small Footprint
(4' by 8' including tracking volume) The small footprint of the simulator allows for installation in any location where training occurs, including multiple simulators in a classroom style environment.
Compared to other construction, mining, or aviation simulators, the AWP's sim's size greatly reduces shipping and installation costs.
Replica Controller
The control panel accurately recreates the layout, feel, and labeling of the real-world Aerial Work Platform.
The controller is modular, allowing for ease of servicing as well as customization to different models of equipment.
Ready handholds, which are replicated in the virtual experience, provide comfort and stability to the operator.
Universal Motion Base
(750lb capacity, 350lb operator limit)
The simulator is designed around a universal motion base which contains the primary electronics and 4 high speed electric actuators.
This design allows for quick disassembly and conversion to other configurations, for example, a Standing Forklift Simulator.
---
OneRoom – Virtual-Space, Realtime Collaboration
Work together like never before, anywhere on earth. Collaborate in any environment, scenario or model you choose. Share and assemble objects. Walk learners through a process. Investigate incidents. Imagine the possibilities. Connect with OneRoom.
Many People, Many Places, One Room.
Collaborate, explore, discuss and train virtually.
Assemble & manipulate animatable objects from multiple environments.
Share whiteboards & presentations.
OneRoom enables multiple users to share virtual environments, regardless of their location.
---